| | |
| --- | --- |
| | Garage doors are heavy, cumbersome and potentially dangerous if improperly installed and maintained. For the safety of their customers and their families, Glenhead Garage Doors strives to maintain the highest level of service for the garage doors that they sell and maintain. Glenhead Garage Doors is a local company with highly qualified and experienced technicians. Glenhead Garage Doors strives to be the best in terms of the quality, service and price and has a number of satisfied customers to prove it. Don't trust your garage door to fly-by-night operations or try to do it yourself, there is simply too much at stake. Glenhead Garage Doors wants to be your garage door service company. |
| | |
Glenhead Garage Doors is not a manufacturer, which leaves it free to sell and service all major garage door makes and models. It also allows Glenhead Garage Doors to help you select the best garage door system for your application.

Call us today at 516-629-7165

Springs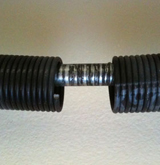 One of the most common items requiring repair on garage doors is the springs, and Glenhead Garage Doors is aware of this fact. The springs are what actually provide the lift for your garage door, and, therefore, are the components most likely to break or wear out over time. When you consider that the torsion springs on your garage door are commonly called on to lift loads of 500 pounds or more, you can see how a damaged or broken spring is not only inconvenient, it's potentially dangerous. At Glenhead Garage Doors, our experienced technicians are available to inspect your springs and tell you whether they are in good condition or if you may have a nasty surprise in store. If the springs need repair or replacement, Glenhead Garage Doors can do it for you and at a very reasonable cost, something that is particularly important these days considering the unsettled economic climate.
Openers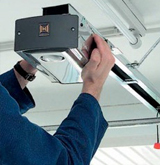 If you remember the days when automatic garage door openers consisted of a noisy, clattering chain drive hoisting your garage door open, you will be pleasantly surprised by modern garage door openers serviced and sold by Glenhead Garage Doors. With some of the more advanced screw drive models, operation is virtually silent. Glenhead Garage Doors also have other features that include keyless locks, remote wireless keypads and courtesy lights that come on automatically when the door is opened.
Another safety feature that has been required in many jurisdictions, and which Glenhead Garage Doors respects, is an auto reverse function that reverses the direction of the door if it comes in contact with anything on the way down. You can purchase openers with this function from Glenhead Garage Doors, and they also have sensors that stop the motion of the door if a person or object breaks a beam of light projected from one side of the garage door to the other located six inches or so above the ground. Such safety features have prevented countless injuries and deaths since they have been introduced. The Glenhead Garage Doors staff will be happy to discuss with you what features may best fit your needs.
Call us today at 516-629-7165
Repair
| | |
| --- | --- |
| | |
| | Even the best built garage doors will, at some point, usually require repair. Be it damage from a storm or an accident, or just normal wear and tear, Glenhead NY Garage Doors technicians are familiar with all of the most popular makes and models and fully qualified to handle any repairs you may require. In most cases, Glenhead Garage Doors can even repair custom or odd size doors. |
| | |
Don't let the largest piece of moving equipment in your house become a victim of neglect, contact Glenhead Garage Doors. Fixing small problems now before they become bigger - and more expensive - problems later is one of the smartest investments you can make in your biggest investment - your home - with the help of Glenhead NY Garage Doors.